We've all seen retractable banner stands. Just attend one trade show, and you'll have seen enough for a lifetime. These advertising pieces are often undervalued and lack true creative inspiration. However, retractable banner stands do provide businesses with multiple benefits that open the door to new innovative ways in which they can be leveraged in everyday use.
First, why is a retractable banner stand worth the investment price?
Ease of use – They only take seconds to set up and tear down!
Versatility – Interchangeable banners allow for the reuse of the stand. Over and over and over again.
Portability – Lightweight and easy to move from place to place.
Longevity – These retractable banner stands are made to withstand constant and repeated use for years to come.
Customizable – Sizes and graphics can be adjusted to fit your specific needs!
If you have a retractable banner stand or you are curious about using them for your business, here are four creative ways on how to best utilize them.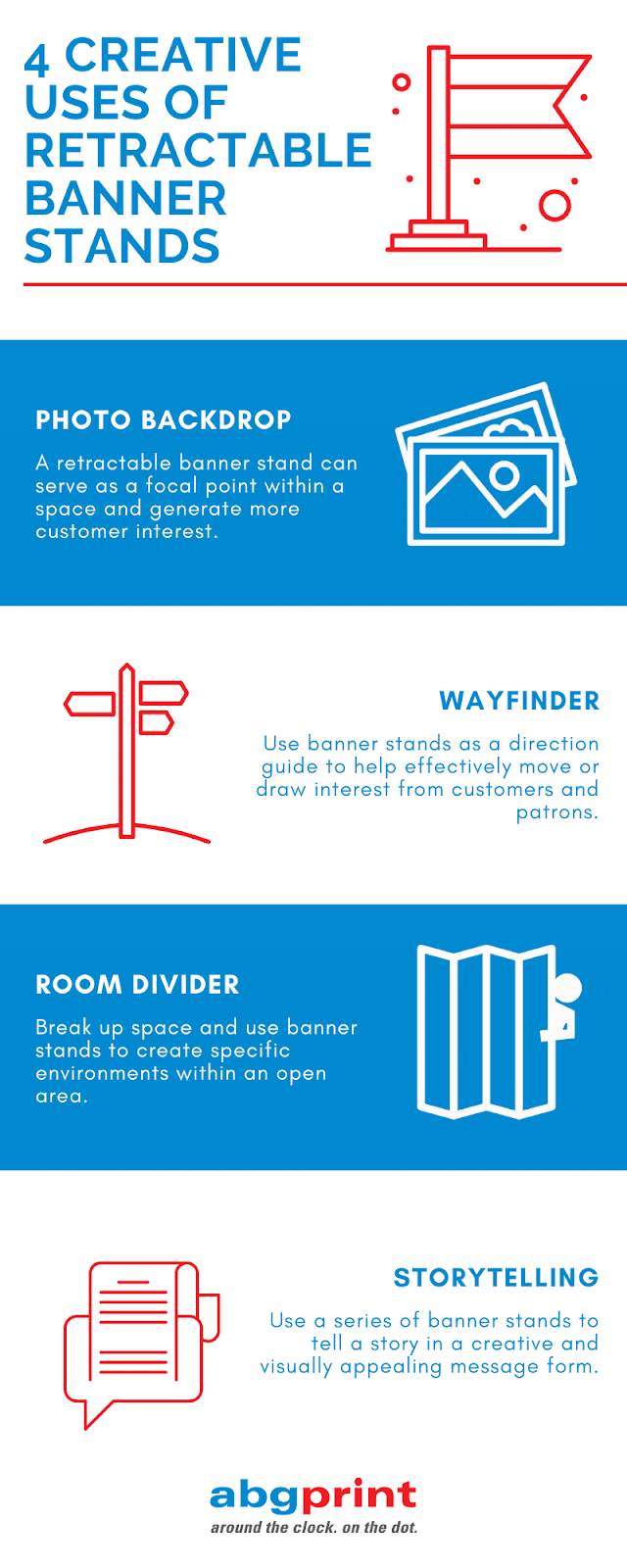 Photo Backdrop
In the era of social media, everyone is always looking for the right aesthetic for their photos. Using a retractable banner stand as a photo backdrop is a great way to generate buzz surrounding your business or location. It also serves as a secondary means of advertising your brand or mission. A photo backdrop is meant to be interacted with, helping give your banner stand more facetime with consumers.
Wayfinders
Sometimes a business needs to be blunt and consumers need to be pointed in the right direction. Using your retractable banner stand as a direction guide is a unique way to move foot traffic through your storefront or event space. A wayfinder banner stand provides a deeper-level to the customer experience and helps deliver a new optical presence for that isn't often seen in print advertising.
Room Dividers
Sometimes it is important to section off areas or create new spaces within an already existing space. A banner stand is a cost-effective and alternative method for achieving this. These stands can feature graphics that pertain to that specific place or section of the store — increasing the information value brought to the consumer.
Telling a Story
We love a good story, and often people buy products or goods because they can relate to or support a narrative they enjoy. Using a series of retractable banner stands is a creative way to grab attention and relay an important message to the viewer. The use of large-scale imagery is a more effective way to get your story to stick with your target audience compared to a flyer or postcard.
Need Retractable Banner Graphics?
ABG Print is able to help identify your retractable banner graphic needs, in addition to sparking innovative ideas on how to best leverage the materials for your business or event. Contact us to learn how to get started.