As your employees emerge from over two years of an exhausting pandemic, they're looking for a morale boost. So, welcome them back with an updated office layout plan in a way they'll always appreciate and never forget. A new New York-style office redesign, complete with refreshing new post-pandemic corporate branding using vibrant and stunning wide-format and wall graphics, is sure to motivate employees to work harder and put a smile on their faces.
Creating a bright new office that makes employees feel good about returning to work can also help you to foster a positive and more productive post-pandemic working environment. Focus on the positive aspects of the transition – and remember that many employees who missed interacting with their colleagues while they were working from home, may have a difficult time adjusting to their new routine and surroundings. So make those surroundings as warm, welcoming and pleasant as possible. After all, taking good care of your employees' mental health is important for the future of your company. Succeeding in a post-pandemic era and successful corporate branding that inspires employees each and every day while working in the office, will help support your modern recruiting strategies.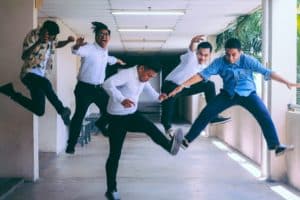 The Importance of Color
We can help you with this important transition through years of experience in corporate rebranding and design, coupled with our color-science expertise. For example, did you know that a careful selection of "warm" and "cool" colors could be one of your best corporate rebranding solutions? Simply put, warm colors – such as different shades and combinations of yellow, red and orange – can evoke warm feelings in people. The wavelengths of these lively colors are long and they're easily noticed, which makes them ideal for welcoming employees back to the office.
These colors will also help to inspire your employees because they tend to make onlookers think of warm things, such as sunlight and heat. Warm colors also appear to come visually closer to individuals – which is why they're often used as a proven corporate re-design strategy to make large rooms seem much more intimate. Warm colors are also associated with passion, joy and playfulness. Would you not want your workers to be more passionate about what they do? Warm colors can also be stimulating, making them an excellent choice for the best work-area layouts, or for busy offices that experience a lot of daily activity.
But let's not forget about cool colors – such as greens, blues and purples – that will make your employees feel calm, relaxed and even refreshed. For example, studies have shown that blue is a "rational" color. It's actually a color that enhances concentration and helps with the decision-making process. It's also linked to better reading, vitality and even spawns feelings of safety and security. Green, the predominant color in nature, is associated with feelings of security, relief and relaxation. It also stimulates the mind both emotionally and logically. And, due to the fact that it emits soft-level energy, its use in planning artistic and creative office environments is encouraged. Purple also supports non-verbal activities and is a popular choice in planning, designing and re-designing modern office environments that promote learning.
We'll Help You Create the Most Welcoming Office Environment Plan Possible
ABG has years of proven, hands-on experience in two areas crucial to the rebranding of your corporate offices – from large-format signs, posters, banners and more, to wall graphics and even floor graphics. First, we can create bright, one-of-a-kind posters of stunning quality that will absolutely impress returning or new employees, while putting them at ease in a subtle way. Second, we can turn your bland office walls into welcoming and fun scenes with amazing wall graphics and custom-made murals. The team at ABG can help measure, design, print and install – to bring any post-pandemic creative office re-design plan or idea to life. In fact, ABG Print is the leading choice for large-format printing services in Manhattan!
Our team of digital printing, design and color-science experts will work with you to create high-impact corporate rebranding solutions that will exceed your expectations – while welcoming back current and new employees in a way they'll always appreciate.
For more information about ABG's large-format solutions, please click here: abgprint.com/services/large-wide-format-printing
For more information about our wall graphics solutions, please click here: abgprint.com/services/wall-graphics/