At ABG Print, we don't just just show your brand – we showcase it with top quality printed promotional products.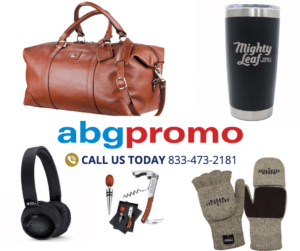 If you can wear it, pin it, touch it, drink from it, stick it, magnify it, read it, or package it, you can trust ABG Print to put your logo and accompanying message on it with clarity and precision, while also making your brand stand out from the crowd. We create and deliver affordable, high-end, value-added, promotional items that are kept, appreciated, and reflect the professionalism of your brand. We offer flawlessly printed, top quality merchandise from professionals for professionals.
The Statistics Speak for Themselves
Too often dismissed by marketers as "add-ons" to traditional marketing collateral, promotional products are an economical way to elevate your brand and make it memorable – and in fact, can offer a higher ROI that other marketing assets. Here are some statistics that may surprise you:
The industry for promotional products in the USA alone is worth $17 billion, according to Ibis World.

According to the PPAI (Promotional Products Association International), 72% of people say that a brand's reputation is reflected in the quality of the promotional products they receive.

Globally, 85% of people who receive a promotional item will remember the advertiser that gave it to them, according to ASI Central.

ASI Central also found that about 57% of American consumers keep a promotional product for over 5 years, while 40% keep a promo product for more than 10 years – that's a decade of low-cost brand impressions!
Bottom line: Professionally printed promotional merchandise works – and you can trust ABG Print to deliver branded, high-end products that are guaranteed to impress.
Here are 5 ways we can help:
Promotional products headquarters.

We have literally hundreds of products to choose from – everything from branded travel bags to logos on dog biscuits, from pens to keychains, from drinkware to mousepads. You can select the merchandise best suited to your target market and customize your message for maximum impact. We'll also tell you which products are bestsellers and what's "hot right now."

We can print flawlessly on just about any surface or media.

This includes clothing and other textiles, metal, wood, plastic, glass, porcelain/ceramics and more. We can also handle odd-shaped, non-flat objects and print your logo and message with precision and clarity.

Unique white-label products.

We continually offer not just the most sought-after merchandise (bags, t-shirts, drinkware, tech products, etc.) but also feature a growing list of new "white-label" items for your special clients – products such as JanSport Backpacks, Acacia Wood Serving Sets, Aurora Coffee Sets, Ignite Candle and Match Gift Sets, and so on.

Holiday and special-event merchandise.

We also offer branded products specifically for traditional holidays such as Christmas, New Year's Day, Easter, Halloween and so on, as well as special-occasion gift merchandise for corporate events and personal milestones, such as birthdays and anniversaries.

Money-saving on-sale items.

We also feature discounts on many of our most popular products such as insulated tumblers, stainless steel drinkware, caps – even stained-glass bulb ornaments, and many more.
Let us take your marketing efforts to an entirely new level with cost-efficient, flawlessly printed, top quality branded merchandise that's designed to leave a lasting impression. We'll make your brand shine!
Please call (212) 398-1010, or visit https://abgpromo.swagforce.com/corporate-gifts.
ABG Print. We deliver. Around the clock. On the dot.
#BrandedSwag #CompanyMerch #BrandedItems