The COVID-19 pandemic has done irreparable damage — both from a financial and healthcare standpoint. Thousands of small businesses have been forced to close up shop for good. These business owners are your neighbors, co-workers, friends, and family. An unpredictable global crisis has unfairly put an end to their dream and livelihood.
Unfortunately, we are still in the middle of this pandemic and businesses are still struggling to make ends meet. Paying rent, cutting staff, and an overabundance of inventory are still some of the everyday problems these businesses are trying to solve. However, this pandemic has also brought out the best in many of us — asking how we can support these local and independent stores… As pillars of any community, the success and stability of small businesses are in the best of their fellow neighbors.
As a result, many Americans have made a concerted effort to shop local and financially support these small businesses during this time. However, maybe you're not in a position to shop or afford extra expenses during this time. Not a problem! There are still multiple ways we can all uplight small businesses without spending a penny.
Taking a few moments of your time to help your community vendors is an investment in your city or town's wellbeing — as well as keeping alive the dreams of countless entrepreneurs.
Here's how you can support small businesses without buying anything: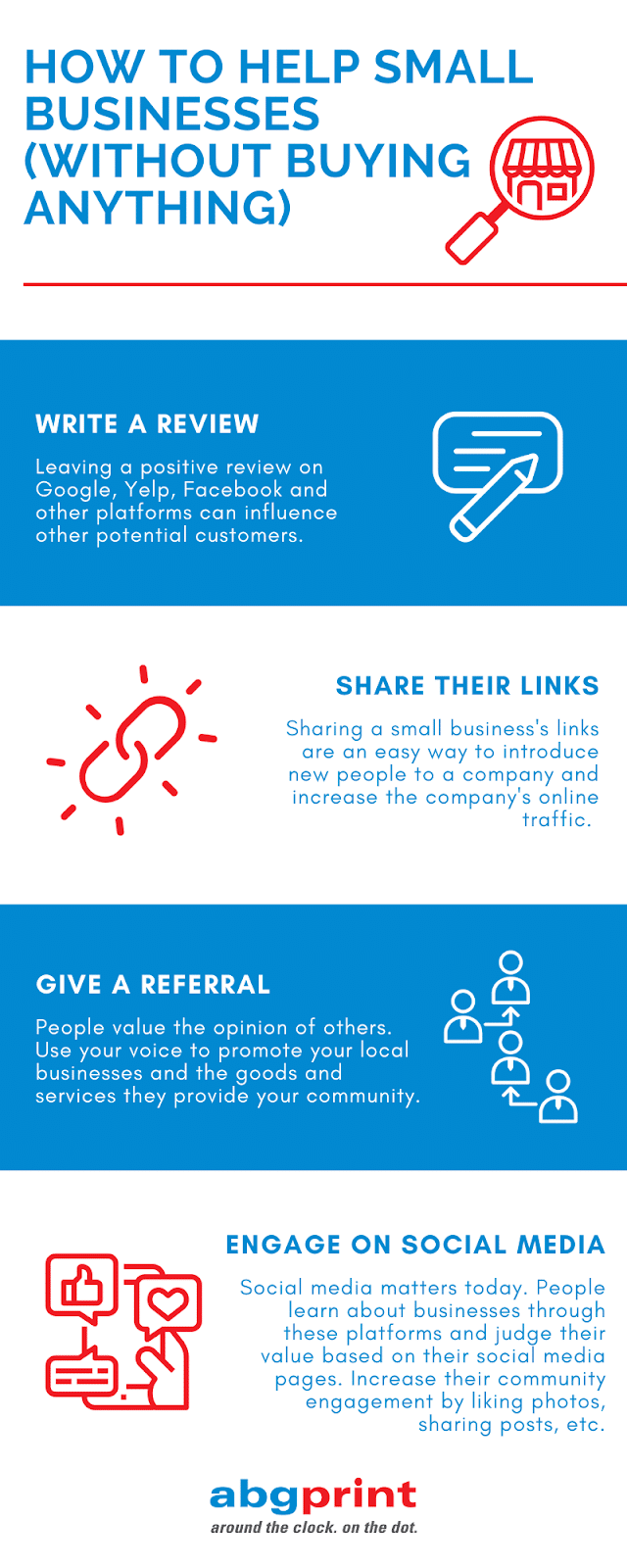 Give Them a Great Review
Reviews matter and people pay attention to them! Words are powerful enough to influence a potential customer's decision — yes your words could be the difference between a sale or not. Writing a positive review on Google, Yelp, Facebook, or any other popular platform could be adding great value to your local businesses… not to mention those kind words can boost company morale and unexpectedly make someone's day.
Share Their Links
The passing along of links sounds simple, but it's effective. Copying and pasting a small business's homepage link or product page link, and then sharing in an email blast, group chat, or on your Facebook Wall can do great things. Online traffic is a big factor for bringing in customers, closing sales, and improving search engine rankings. What many small businesses need is more local visibility. Sharing their website links with your network could start a chain reaction of new customers getting introduced to their new favorite store.
Give Out Referrals
Word of mouth referrals still carry weight. Maybe you know a friend who needs their anniversary party catered or you have a friend who is looking for a new training bike — use your relationship with them to put in a good word about a local business you know and trust to solve their problem. We as humans often still value the opinions of those close to us. Vouching for small businesses in your community can encourage those around you to check them out.
Engage With Their Social Media
We live in the world of digital media. The vast majority of businesses today rely somewhat on their social media to build brand awareness, improve consumer relationships, and cultivate leads. However, social media marketing isn't always easy, as the market is often saturated with competitors and a tricky to solve algorithm. Engagement is one of the major factors that platforms use in promoting and giving profiles more visibility. In addition, people are more likely to pay attention or interact with social media pages that have an active community of users. Therefore, leaving a nice comment on a business's most recent Instagram post or sharing their Facebook status update can go a long way in developing their online presence.
Need Professional Print Services?
ABG Print is a small business print shop able to meet any creative or logistic need you or your business may be in the market for. Contact us to learn about our services, pricing, and how to get started with your print needs.