As COVID-19 restrictions relax and new phases of re-opening start to happen, businesses are working to safely jumpstart their operations. Drawing customers back in-store or hosting a conference presents a variety of potential issues that business leaders need to weigh.
How can health guidelines be enforced?
What will attract customers to our storefront?
How can we give in-person shoppers or attendees peace of mind?
What visual aids will be both informational and stimulating?
Which marketing materials make the most sense for a re-opening or conference?
With nearly every business and organization feeling the financial impact of the pandemic, owners are looking to make wise investments during this time of re-opening. Marketing budgets are understandably lower compared to pre-pandemic times. However, businesses are still in need of assets in order to attract and protect their consumers. During this phase of re-opening, businesses are seeing tremendous use and benefit from vinyl and retractable banners.
Here are a few reasons why your New York City business or organization might be interested in banner advertisements and materials during your re-opening or upcoming conference.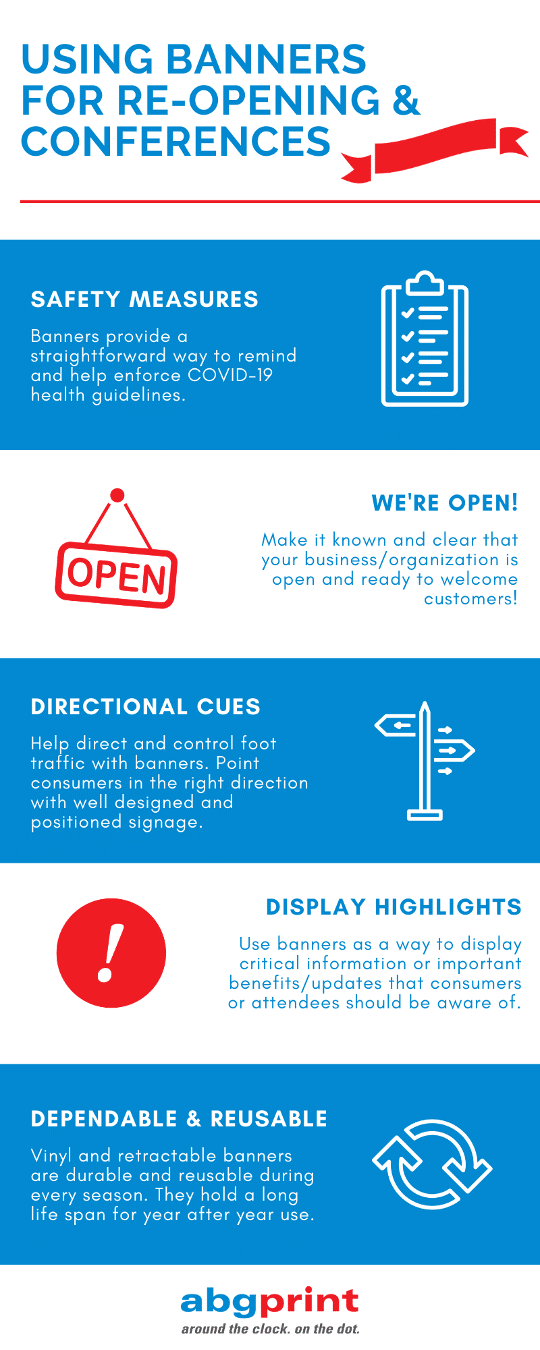 A Reminder of Safety Measures
During this phase of re-opening, it is important for customers and employees to keep following health and safety protocols put out by the CDC and local municipalities. Vinyl banners and retractable banners are an easy, in-your-face way of keeping these guidelines top of mind. Placing these banners in entryways and other foot traffic hotspots acts as a constant reminder to individuals to maintain necessary behaviors such as hand washing for 20 seconds, social distancing, wearing a mask, and more. Businesses and organizations can also use these banners to highlight other important safety measures they wish to enforce or suggest such as cashless payments or capacity limits.
Show That You're Open!
During the pandemic, there has always been that question in the minds of customers, "Are they open?" Many businesses were forced to shut down or did so in an abundance of caution for the community. Now as re-opening starts to happen, some businesses are up and running again, while others are not quite there yet. Using outdoor vinyl banners or retractable banners is a clear way to advertise that your business or organization is open to the public. With good design, your banners can help grab attention and share the message that your business has re-opened your doors.
Directional Guide & Cues
In an effort to protect your consumers or conference attendees, controlling the flow of traffic is a key part of maintaining social distancing. Banners are the perfect solution to providing a visual aid or cue to individuals on which way to walk or find the right location for their specific needs.
Highlight Key Benefits / Critical Information
As your business re-opens or you are hosting your conference, you probably have some key information that you'd like to share with the audience. This could be a new mission statement, added services or goods, the conference schedule and list of speakers, etc. A vinyl banner or retractable banner serves as a blank canvas to fit whatever important information needs to be shared with the corresponding audience. Since these banners are often larger in size, they act as good attention grabbers, helping ensure individuals consume the critical information.
Dependable & Reusable
Banners are well-constructed and weather-resistant in a variety of New York City conditions. Due to the material quality, vinyl banners and retractable banners provide a long life span, allowing businesses and organizations to use and reuse these marketing materials year after year.
NYC Printing Services You Can Count On
As the city's re-opening continues, and things slowly inch back to normal, ABG Print can be your trusted one-stop-shop for all your safety signage, indoor, outdoor and retractable banners, directional signage, every day marketing materials, and future print needs.
We've provided New York City with premier printing services for more than 30 years. What sets us apart is our ability to take your designs and bring them to life in ways you may not have considered. Contact us today to fulfill all your printing and signage needs.