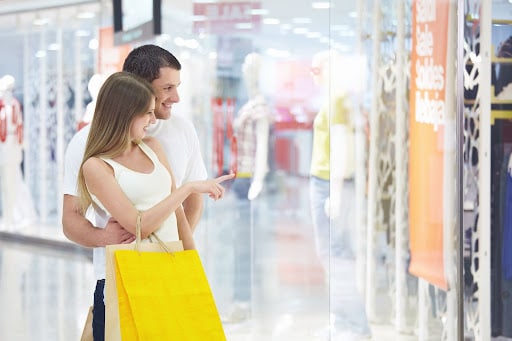 ‌Every business has its ups and downs. However, the COVID-19 pandemic has created one of the worst economic nightmares for retailers in modern memory. All across the nation, retailers of every size have had to scrape by on meager sales and PPP loans. Many have, unfortunately, had to close their doors for good.
‌
COVID-19 did more than hurt sales for retailers. The pandemic also took its toll on the customer-company relationship, a relationship that takes time, effort, and money to cultivate. Businesses were stuck between a rock and a hard place, having to balance the need to drive sales and respect their customers' safety. Not only were consumers exercising caution to protect their physical health, but many of them were being exceptionally cautious with their finances due to economic uncertainty.
‌
As e-commerce exploded during the height of COVID, in-person shopping suffered. Despite the vaccine rollout, many consumers are still wary about returning to in-store shopping. Countless others, however, want to get back to how things used to be. They're ready to browse their favorite storefronts again, and business owners are eager to get foot traffic back in their aisles.
‌
With businesses like yours trying to return to in-person shopping, it's going to take a sizeable amount of marketing efforts, safety precautions, and time to bring your customers back. Fortunately, with care, you can encourage your customers to come back while also showing them that you take their health and safety seriously. Believe it or not, you don't need to focus all of your efforts on digital marketing, nor should you. Print marketing can be just as effective (if not more so). Here are ways in which print products will play a vital role for retail stores in 2021 and a few ideas about which print products, in particular, to invest in.
How Print Products Help Drive Retail Store Sale‌s
The development and rollout of coronavirus vaccines have given many consumers confidence and a renewed peace of mind. With more lax guidance from the CDC, consumers were beginning to feel more comfortable going back to normal, including shopping in-store.
‌
Then the Delta variant struck. Due to the rising case count, many people, even vaccinated people, are feeling cautious about in-person activities. According to the CDC, it's safe and permissible to get back to in-person shopping. However, people still need to take proper precautions, which include masking, hand washing, sanitizing, and social distancing. Even so, consumers are still understandably concerned about the prospect of walking into stores and shopping like they used to. Businesses like yours can help to bridge the fears of shoppers with well-planned marketing.
‌
Here's the thing: We live in a time when digital marketing tends to take precedence. It makes sense. We are more connected than we've ever been before. We can access the internet from a device that fits comfortably in our back pockets. Digital ads are everywhere. Between social media, music streaming apps, television, and other media outlets, digital advertising inundates our lives.
‌
Instead of digital advertising, businesses may find print products much more effective — particularly in the second half of 2021. Print products can help get the word out about your company's specific shopping policies and overall experience in this current climate. Your materials can showcase the measures your business is taking to mitigate the spread of the virus and show your customers that you're taking their health and safety seriously.
‌
In a time where people have lived in isolation, stuck staring at screens for the last year and a half, physical marketing products can make a significant difference in garnering public attention. You'll stand out by doing something that many others aren't. Whether you use mailers, posters, banners, or other promotional products, these physical advertisements will generate some much-needed attention.
Print Products to Use in 2021
The great thing about print products is that you have so many options to choose from. From small counter cards to large in-store banners, you have a myriad of ways to get the word out about your business and what you're doing to protect the safety of your employees and customers in-store. Here, we'll take a look at some of the most popular printing products that can help make a difference in your store and drive more physical foot traffic during the remainder of 2021.
1. Postcards
Postcards are an excellent, straightforward form of direct mailing. With a single card, you can send current and potential customers a single print piece that provides a coupon, announcement, or other pertinent information. In this case, you can use postcards to let the members of your local community know about your re-opening, new store policies, events, sales, and more.
‌
With the prevalence of spam filters these days, you're much more likely to have your marketing emails flagged. When that happens, there's a good chance that people on your email list don't actually receive what you sent. Postcards are easy to deliver, and they can't get caught up in any digital filters. As such, the intended recipients are much more likely to see your intended message.
While postcards are small, they can have a substantial impact. Approximately 42 percent of recipients read through (or at least scan) the contents of their mailbox. On top of that, direct mail like postcards requires 21 percent less cognitive effort than digital mail to process. Additionally, people tend to hold onto direct mail for an average of 17 days, which means they'll see it more than once. With an email, it's easy to click on it, delete it, and never think of it again — not so with a postcard!
2. Counter Cards
Counter cards make an ideal brand awareness campaign product. Being pocket-sized, they're easy for people to pick up and take home with them. You can drop a small stack of them in other locations around town, such as coffee shops, bookshops, libraries, and more. Some places already have a designated counter or space for other local businesses to leave business and counter cards. If you don't see such a spot, make sure to check with the owner or manager before you leave anything for customers to look at.
3. Retractable Popup Banners
There are also plenty of printing products that you can use at your brick-and-mortar storefront. One popular and effective option is the retractable popup banner. The banners are lightweight, easy to use, and can serve many different purposes.
‌
Retractable banners make a statement. They're hard to miss, whether you place them at your entrance or in key locations throughout the interior of your store. Along with demanding the attention of your returning customers, they can direct the flow of traffic in your store or remind shoppers of your in-store safety measures.
4. Posters
Large visual aids such as posters are still a highly effective form of print advertising. They're particularly effective in high-traffic areas and in places where passersby are sure to see them. Much like many of the other printing products here, they can let customers know you're open for business again, advertise sales, and inform people of your safety measures.
‌
One of the best places to hang posters is in your windows, allowing you to get the most value out of that space. There, they can grab the attention of pedestrians and encourage them to walk through your door.
5. Brochures
Guess what? Brochures are back in style, and they're an excellent way to create a mini-catalog of what you have to offer. You can then send them to your current, as well as, potential customers. With a brochure, you can showcase your products or services, current sales and promotions, hours of operation, in-store health and safety guidelines, and more.
‌
As another form of direct mail marketing, well-crafted brochures can be incredibly effective. The recipients can browse through to learn valuable information about your business and the measures you're taking to protect their health and safety in your store.
The Best Print Shop in NYC
Printed products are making a comeback in a big way. From simple cards that you leave on the counters of other stores to elaborate brochures that you mail to your current and prospective customers, there are numerous ways to reach consumers that don't involve digital advertising. These products cut through the constant noise of more modern, digital methods — helping stand out and linger in the buyer's mind. If you haven't yet, there's no better time than now to invest in printing products to ease the uncertainty and fear your customers might be experiencing.
‌
Are you ready to get started? ABG Print is here for you. As a 24-hour NYC print shop, we can create the products you need and deliver them to you quickly. We offer a wide range of printing services in NYC, from postcards to banners and everything between. As the premier print shop in NYC, we can take your most ambitious designs and make them a reality.
‌
For more information, and to start your physical advertising campaigns, contact us to request a quote.