There are many reasons why New York's top financial service leaders such as Goldman Sachs, J.P. Morgan, Signature Bank, OneMain Financial and others use ABG Print's financial printing services. There are many reasons why ABG Print is A+ Accredited by the Better Business Bureau, has a 5-Star Yelp Rating and a 4.9 out of 5 Google Rating. But at the end of your financial day, whether you're a financial analyst or a management team executive, it all boils down to exceptional print quality, on-time delivery – and above all, trust.
As we emerge from an exhausting pandemic, financial institutions are looking to get back to "business as usual." That involves staying ahead of your competition by differentiating yourself with impactful and memorable sales collateral that communicates your investment-strategy messages clearly and impressively. From proposals to promotions to presentations, from booklets to brochures, from financial reports to factsheets, we've specialized for over 25 years in creating and distributing attractive, easy-to-read materials that will reflect your professionalism, elevate your brand, and meet your growing list of financial-printing needs. We also stock a huge inventory of stylish cover sheets, luxurious presentation folders and other high-end, on-demand materials.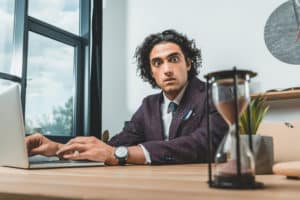 We Meet Deadlines. Period.
Actually, we always try to deliver well ahead of your deadlines. You need to distribute your pitch books, brochures and financial information to prospective clients, colleagues and others on time, all the time. ABG Print has partnered with numerous firms that specialize in:
Investment banking

Private equity

Commercial banking

Private credit

Venture capital

Wealth and asset management
We "rush print" stunning sales collateral without compromising on quality. We're also a trustworthy, family-owned and family-operate printer. Your messages will remain secure throughout the entire printing process. Plus, we have the expertise and equipment to exceed the quality typically offered by in-house printing departments – so you can spend less time worrying about production details and deadlines, and more time building your business.
Trusting and Deadline-Oriented
Our clients trust us to deliver on time 24/7, 6 days a week, because they consider ABG Print their partner, not just another supplier or another courier who may do printing on the side. Ask yourself these 3 questions:
Is your current print provider and/or delivery service available on a moment's notice?

Do you know them, and do they know you, on a first-name basis?

Do they inspire trust and have specific and vast experience in financial services printing?
For example, can they provide variable-data digital printing solutions so you can tailor your message to someone on a personal level? (Variable-data printing, called VDP, can increase response rates of printed direct-mail by up to 500%). Finally, are they familiar with the intricacies of print embellishments such as foil stamping, spot varnishing and raised special effects that will further elevate your company's brand and image? We are.
Client Perks
Ask about our referral program that could earn you $250 per referral. We also deliver free lunch when you purchase at least $500 worth of printing.
Partner with us today. Call (212) 398-1010
ABG Print. We deliver. Around the clock. On the dot.