This year has taught us a lot, one being: print signage isn't dead. Unfortunately, 2020 has been a constant battle with the COVID-19 pandemic. All across the world, countries, states, and local communities have been directly impacted by this novel virus – physically, emotionally, and financially. Unlike anything else in our lifetime, we have witnessed society have to retrain and relearn daily activities in order to best protect ourselves and others from this highly contagious disease.
Print signage has played a critical role in the process of businesses and organizations being able to safely and responsibly operate during this time. Businesses have always relied on print marketing materials to send a message to their target audience – from single-sided flyers to full window ad signs, print signage has continued to help connect to customers. But as this year has rewritten the norms on safety protocol and daily interaction, more print signage is necessary. In order to encourage and adhere to CDC and local health guidelines, both mom and pop and large scale chain stores are needing print signage to help keep customers and employees safe.
As we enter the winter months, health officials are warning of a potential increase in COVID-19 cases, along with the seasonal flu hitting its peak. With a rise in cases, more community spread is at a greater chance. Therefore, this calls for businesses and customers to be even more diligent in their sanitation practices, spatial guidelines, and PPE use. In an effort to keep businesses open and virus transmission low, print signage will be extremely important this winter season.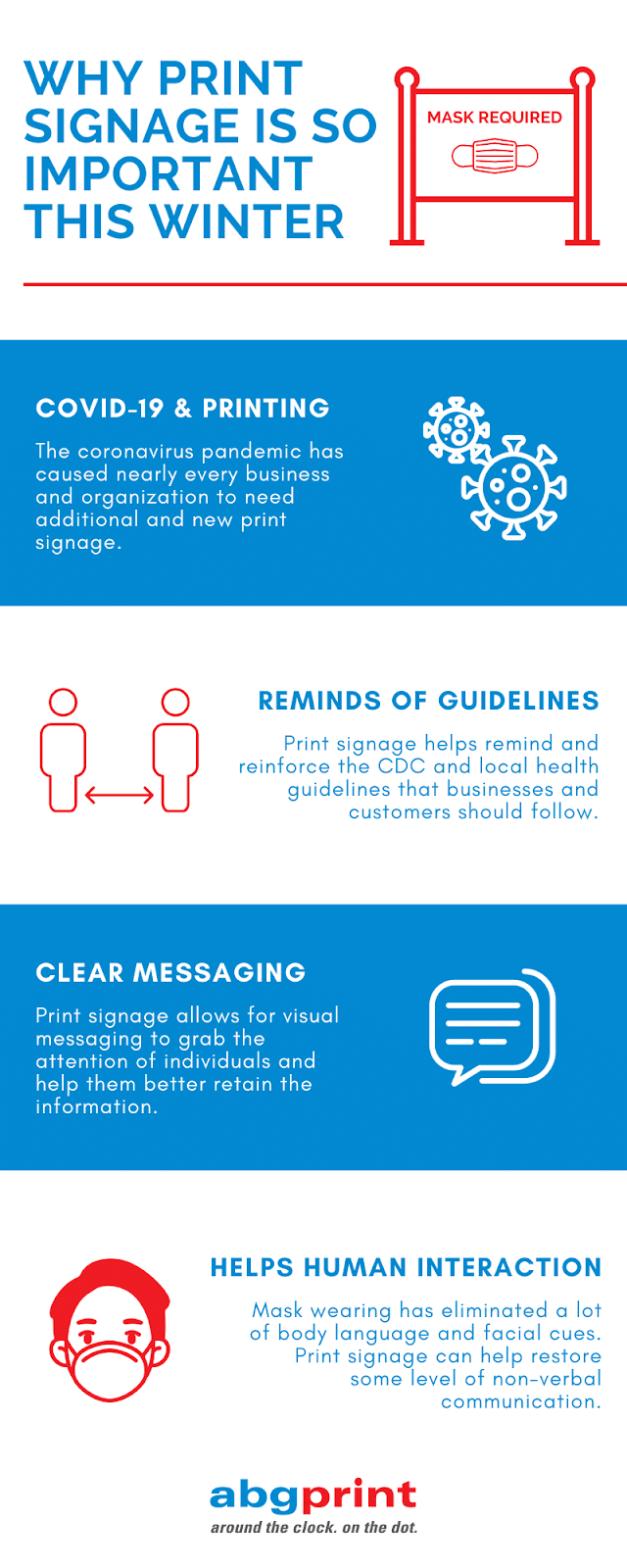 Print Signage Reminds of CDC Guidelines
There is a lot of information out there regarding COVID-19. The CDC has put out detailed guidelines and safety protocols that significantly help reduce the risk of transmission in a variety of settings – from businesses to schools to travel plans.
The use of print signage is necessary for all forms of human activity outside the home. Individuals need to be reminded of the proper safety measures to keep themselves and others safe. When these signs are in place, individuals are more likely to comply with the standards being asked of them.
Therefore, the use of print signage helps to enforce things like:
Required mask-wearing
Encouraged (at least) 6 feet of social distance
Directed foot traffic
Mandatory hand washing
Print Signage Provides Clear Messaging
Many studies suggest that over 60 percent of people are visual-first learners. This translates to individuals paying greater attention and having better information retention when a message is delivered in a visual medium.
This calls for why print signage is crucial during this winter. With well designed print graphics (from wall signs to floor markers and more) individuals are at a greater chance of reading and understanding the message – and following it. When clear messaging is presented through signage, this also takes the burden off employees and staff from having to enforce the stated policies. The use of print signage helps provide clear messaging that will help last throughout this pandemic.
Print Signage Helps With Interrupted Human Communication
Humans depend on body language and facial cues to communicate. While mask-wearing is essential to mitigating virus transmission, it diminishes our ability to communicate and convey messages between one another. A majority of human emotion is displayed through facial expressions, and mask-wearing nearly eliminates all readable emotion by another party.
By using print signage, a certain level of "normal human interaction" can be reinserted. Through creative signage and design, businesses can help better facilitate communication and interaction between employees and customers. The use of signage like, "I'm smiling under this mask," or "You can't tell, but I'm smiling," is a great way to convey everyday body language that can't be seen currently. Little touches and messaging like this may not seem like a big deal, but they do help improve communication and facilitate a sense of normal that many people want right now.